We are proud of NBG's inclusive, equal and candid culture.
Supplier proposals, new initiatives, and key issues that affect the group are agreed by discussion and democratic vote. This ensures that all Partners are heard, and that conclusions are fair and open, which in turn means that decisions are supported and adopted by all.
Our flat management structure and centralised agreement system ensures clear lines of communication, which means new agreements are adopted rapidly and consistently throughout NBG. Through this approach, supportive suppliers benefit quickly from their relationship with NBG.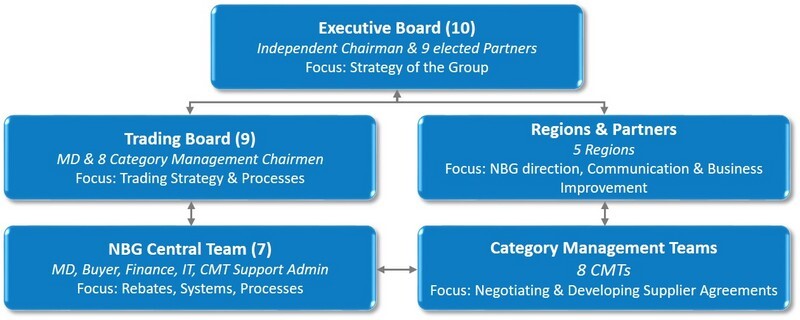 Our Executive Board
NBG's Executive Board includes an independent Chairman and nine elected Partners. The Board meets on a quarterly basis and their core focus is the strategy of the group.
The Trading Board
Our eight CMT Chairman also meet with our Managing Director and one Executive Board member four times a year to monitor and improve NBG's trading strategy, deal support, and CMT processes.
Our Regions
NBG has five regions, with each being overseen by a Chairperson and Vice Chairperson elected by the Partners to represent their interests. The regions are Scotland, the North East, the North West, the South East and the South West.
Quarterly Regional Meetings provide a forum where decisions affecting NBG and the Partners are made, new deals are communicated, and best practice shared. This ensures clear communication and Partner buy-in, which improves deal understanding and support.
Category Management Teams
We operate eight Category Management Teams (CMTs) which incorporate all of the key products groups:
Each team meets on a quarterly basis to discuss the progress of existing deals, ratify recommendations for new agreements, and to ensure that agreements are being properly supported.
Each CMT has representatives from every Region to ensure agreements are attractive to all of our Partners. Each Partner is typically represented on at least two CMTs, depending on their size and area of specialism / industry focus.

Central NBG Team
NBG is unique amongst similar groups in the industry by having a centralised team whose sole objective is to make sure that the group is working effectively and efficiently to save money and time for all of our Partners.
Managing Director: Our MD leads the formulation and execution of NBG's strategy, which is in direct response to feedback from all of our Partners.
Finance Team: Our friendly and tenacious Finance Team ensures all fees and rebates are calculated, paid and distributed to Partners correctly, accurately and on time.
CMT Commercial Support: Our CMT Chairmen's Right-Hand Ladies provide administrative support, tender analysis, organise the CMT meetings, and are generally on hand to support all CMT team members' day-to-day activity.
Business & Systems Analyst: Our Hub guru leads the ongoing development of NBG's leading edge technology system and provides user support and training.
Buyer: Our professional buyer supports our CMT Teams where required in investigating potential new agreement areas, negotiating new agreements, and ongoing account management.
Our Systems
Known affectionately as 'the Hub', our agreement management system is a single central portal, providing consistent, clear and timely communication to all Partners. It automatically manages and processes rebates, delivering accurate and timely financial support. It saves time by reducing queries and ensuring effective data control, through improved information accuracy and security of information. The Hub also offers a promotions and new products solution, providing ease of access for all offers which encourages effective Partner buy-in and take up.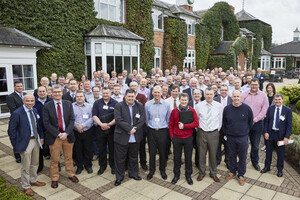 Our Ethos
We are committed to delivering benefits to both NBG Partners and Suppliers through a professional and inclusive culture, built on strong relationships and values.
Our Vision:
To be the premier Buying Group for Independent Merchants: we are dynamic, forward thinking, and innovative.
Our core values:
An open and friendly culture.

Integrity in our approach to business.

Strong relationships with Suppliers.
Our History
NBG was formed in 2003, following the merger of three separate buying groups – the Scottish Independent Merchants Buying Association (SIMBA), the Chandor Consortium (South of England), and the Prospero Consortium (North and Central England, and Wales).
At the time, the three groups were running independently of each other but shared many synergies, and so joined forces to create NBG.
In January 2008, NBG was registered as a Limited Liability Partnership (LLP). This structure means that every Partner has an equal voice, supporting our culture of unity and openness. We are a 'not for profit' organisation, with all residual proceeds being distributed to our Partners each year.
Today, NBG is in continued strong growth with new branch openings and expansion into new business areas. In 2016, we welcomed five new Partners who added a further 6 branches to our national network of independent merchants, and our existing Partners opened 28 new locations. To apply to join NBG, click here to complete an application form.